Mogstock 2023
SEE YOU AT MOGSTOCK 2023!
Mogstock 2023
Thank you all for making Mogstock 2022 such a great success and we can't wait for next year! Check back often for more information!
The Mogstock festival is a yearly musical celebration held in Ward 22 subdivision of the Lavender Beds on the Mateus server on July 15, 2022 through July 17, 2022.This large scale community event endeavors to celebrate the wonderful part that music plays in FFXIV with our bards, choreographed dancers, orchestrions and even the newer addition many groups have embraced which is DJ'd nightclubs. Mogstock is slated to take place July 15-17 on Mateus - Lavender Beds, Ward 22 subdivision, embracing the 'flowerchild' aspect of the namesake (Woodstock). Non-musically oriented community is asked to get involved as vendors, guests, support staff and more.Roleplay is also a huge feature of Mogstock including multiple participating venues, immersive activities and more! Get your FC out there and being part of something large and productive, while also celebrating our own unique 'Role-play' focus on Crystal Datacenter.Mogstock is a massive collaboration event djs & musicians of all types, artists, vendors, FC sponsors, streamers, photographers, publicists & support/info. staff. Want to be part of it?
Contact us!
The Schedule's up! See when your favorite acts are going to be playing!
MOGSTOCK AFTER HOURS PARTY SCHEDULE
The party keeps going during Mogstock after the performances. If you're a night owl or want to keep the fun going, all are welcome to come join in the fun during the afterhours party for socializing (and RP!)
Friday July 15th Afterhours - The Elysian Springs Spa (Plot 33)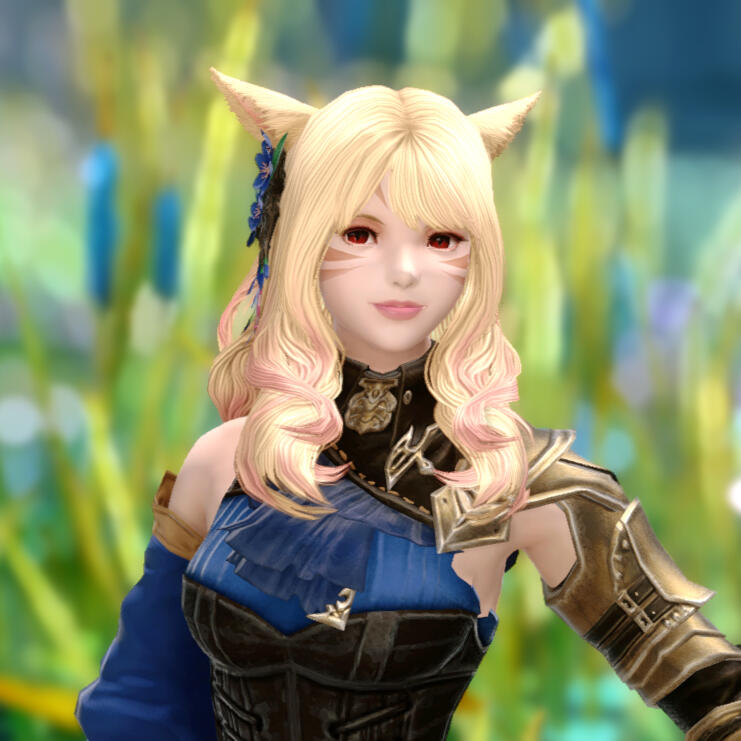 Saturday July 16th Afterhours - The Kitty Twister @ Erudite Manor (Plot 36)
Sunday July 17th Afterhours - The Rainbow Room (Mateus, Goblet, Ward , Plot )
Bards & Musical Performers
SOLO ARTISTS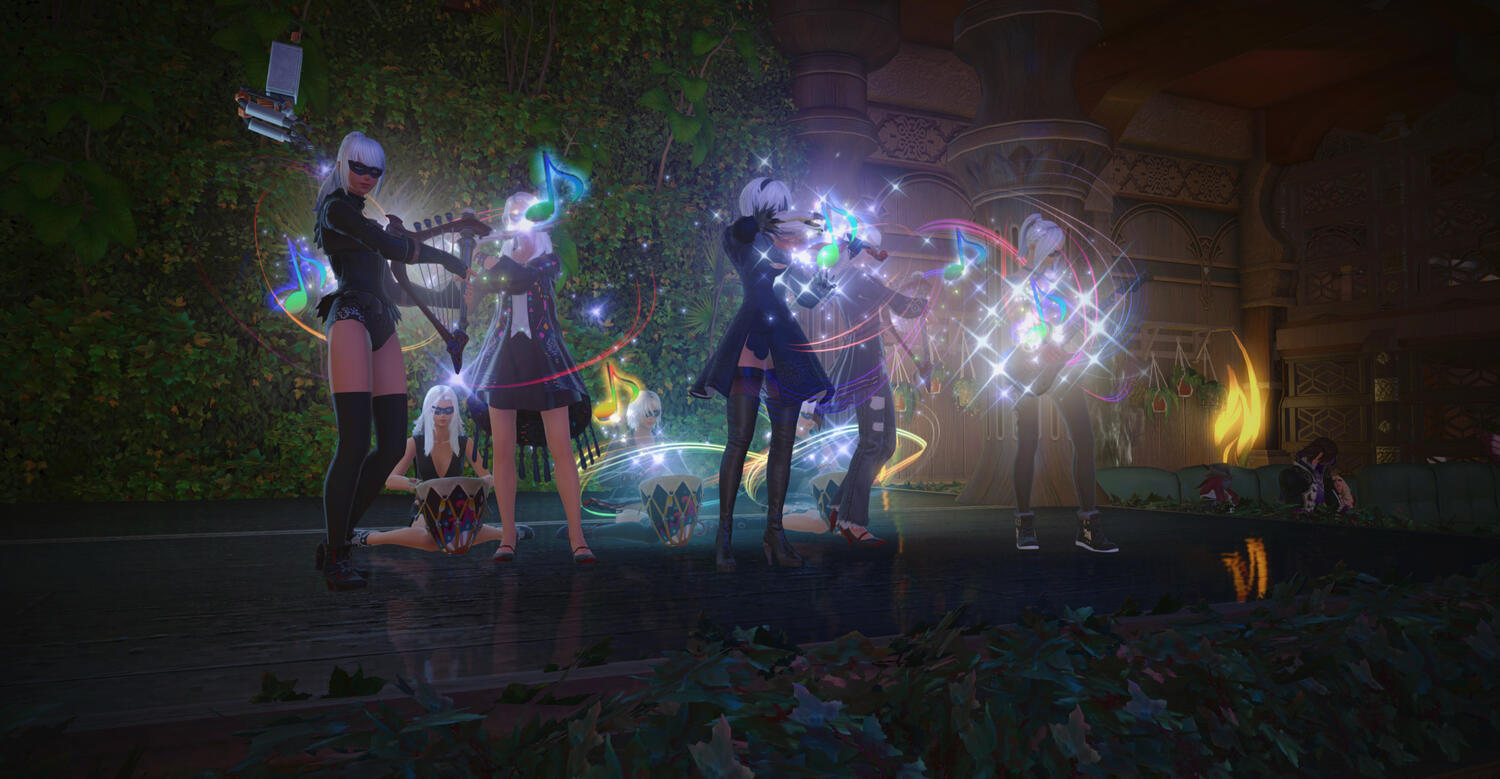 Cal Ikozu
Cal can be found barding at Fire n' Ice as well as Wandering Faerie. Though Cal usually is performing as the lead in a group, this blonde bombshell is usually lighting up the stage with a few friends.Cal performed at Mogstock last year and was excited to join us again for the 2022 Mogstock festival!
Davey Bowie
I can often be seen throughout different crystals and servers performing for weddings, special events, and just playing to play. I have a performance hall that hosts DJ and bard performances along with private special events. Anywhere and everywhere. I play solo primarily, but love to catch a new partner or three to play with!Davey plays an eclectic mix of video game music, rock songs, pop songs, and classical songs. Something for everyone. Many custom-crafted midis for everyone's enjoyment and of course....a ton of Bowie!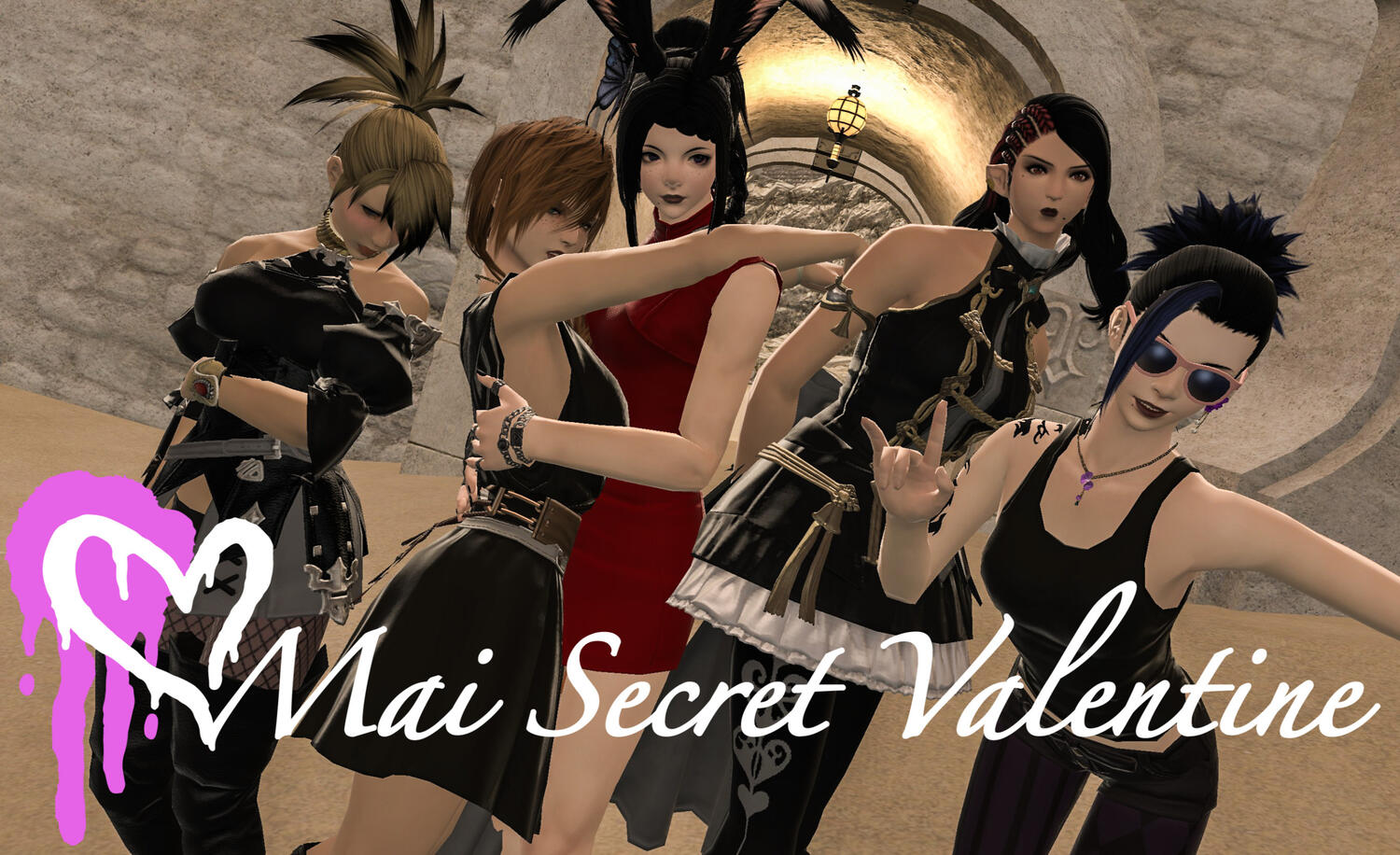 Iris
Iris was a mute bard until recently, who could be found playing music nearly every day at her bench in Limsa. Iris has had friendships last years without saying a single word to them.Usually street performing, but have played at a past venue hosted by Clayde, and was hired at the Tipsy Tabby Bar to play every Wednesday hosted by Mewmew Kittykins. Also played at the previous Mogstock!
(Of note - Iris is plays her music manually!)
Lea Pipkin
A soft spoken dark-haired boy who loves telling stories through dance and song. Lea has big plans of opening a bard hall on Malboro, soon!(I overengineered my barding solution before I learned that MIDI players exist. I wrote a software interface that directly translates keypresses from a Casio ToneBank into keystrokes, and then wrote a reverse interface that allows playing partials of MIDIs, so I can have what I call an "assisted manual", as I cannot play some songs due to complexity and a hand surgery I had at 15. Barding for me is both an exercise for hand dexterity and a way for me to bring some more color to the game world.)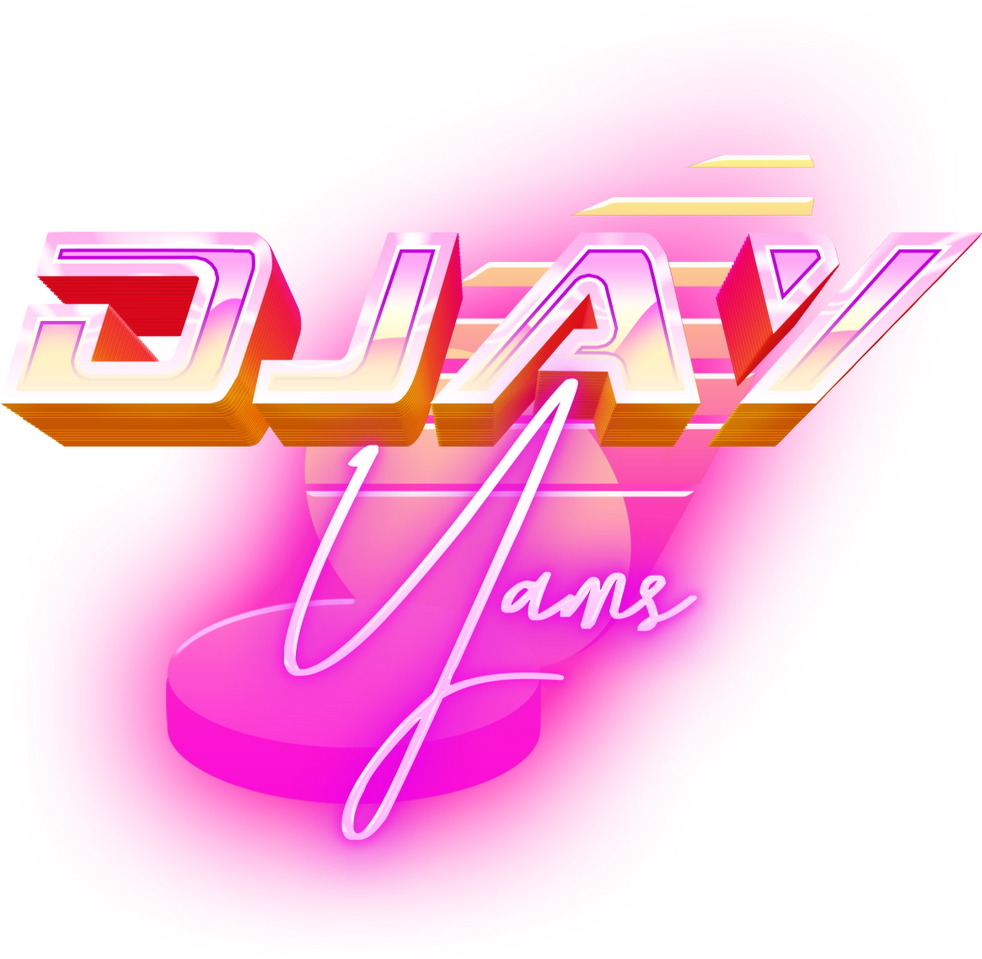 Melodi Grace
"My first language is music. When I'm not making songs, or playing them I'm hype manager for TORIIGATAN."
You can also find Melodi at The Eventide as the house bard, every Tuesday evening, and sometimes doing street busking in the busy streets or making surprise appearances at venues such as the Kitty Twister!
Sehu Ketto
Sehu is often found barding at the Blue Miqo'te, CAMA, and the towns mostly Gridana or Limsa. She loves playing pop, softer jams and prefers the harp as her main instrument!Sehu is a Mogstock alumni!
Vylaris Pyranox
Vylaris is a manual playing bard that spends a lot of time practicing. Vy spends time between street performances, venues, and private events and was one of Mogstock's performers last year!"I performed at Mogstock last year and it was absolutely amazing!"
---
Duets, Trios & Ensembles
---
Black Rose & Kiss Everlasting
It's another musical group!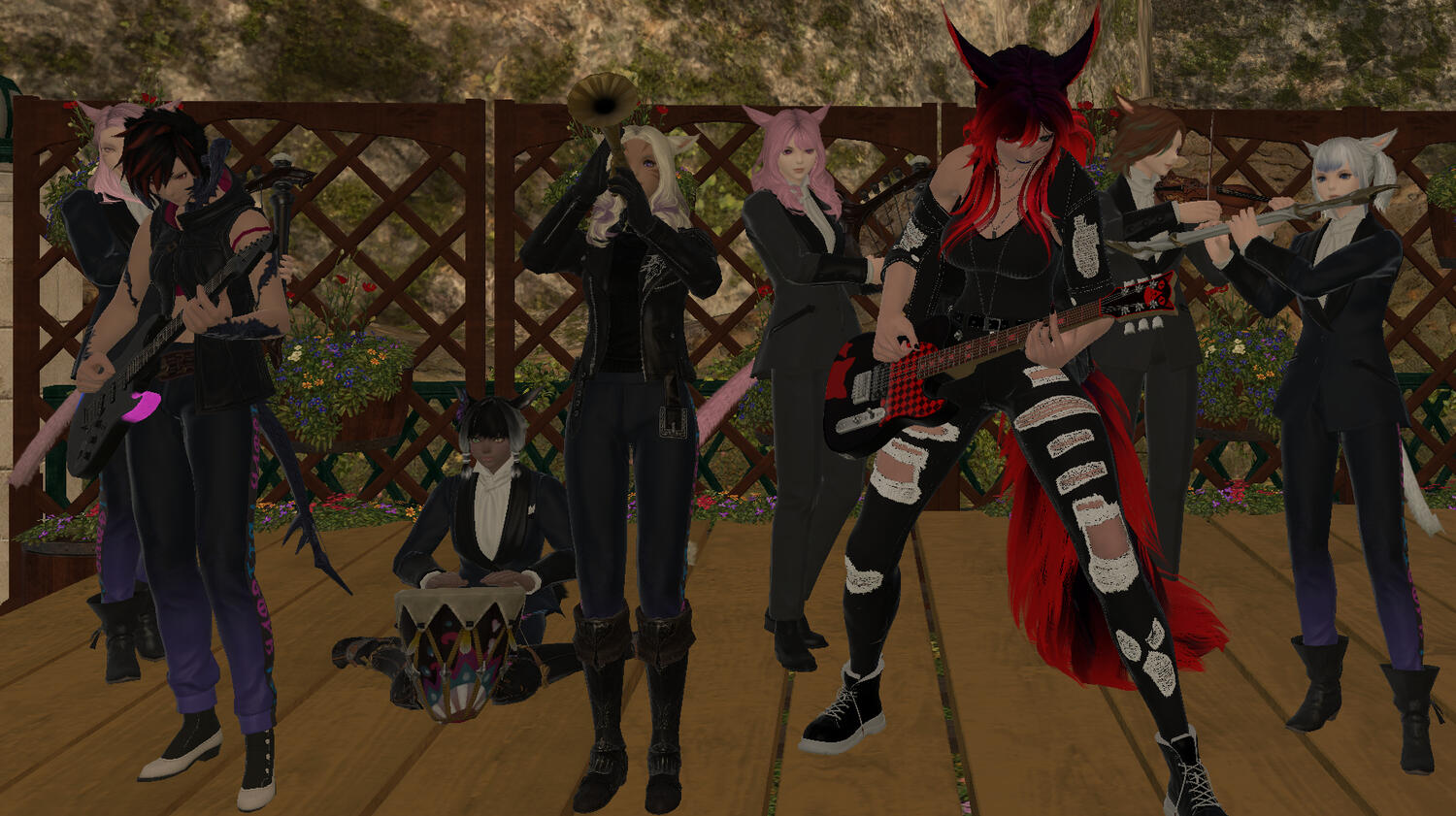 Darling Charley
These identical twins were found banging on pots and pans in a Garlean internment camp by a wealthy, opportunistic Hyur merchant named Sebastian Darling who adopted them out of captivity with a few well placed bribes. Mr. Darling saw the potential to cash in on twin miqote performers and secured their training in music and dance. Upon reaching adulthood, they realized that, while protective and decisively better than imprisonment, Mr. Darling ultimately only sought to exploit their talent.
Under the guise of seeking an Audition with the Majestic Imperial Theater company, they boarded the Prima Vista and stowed away, securing passage to Eorzea. Making their way to Uldah, they survived as street performers before meeting and joining the Sunset Touring co., in which they found a real home. Later their fellow adopted brother Charles found his way to Eorzea to reunite with them and they founded the band "Darling Charley" led by Charlotte.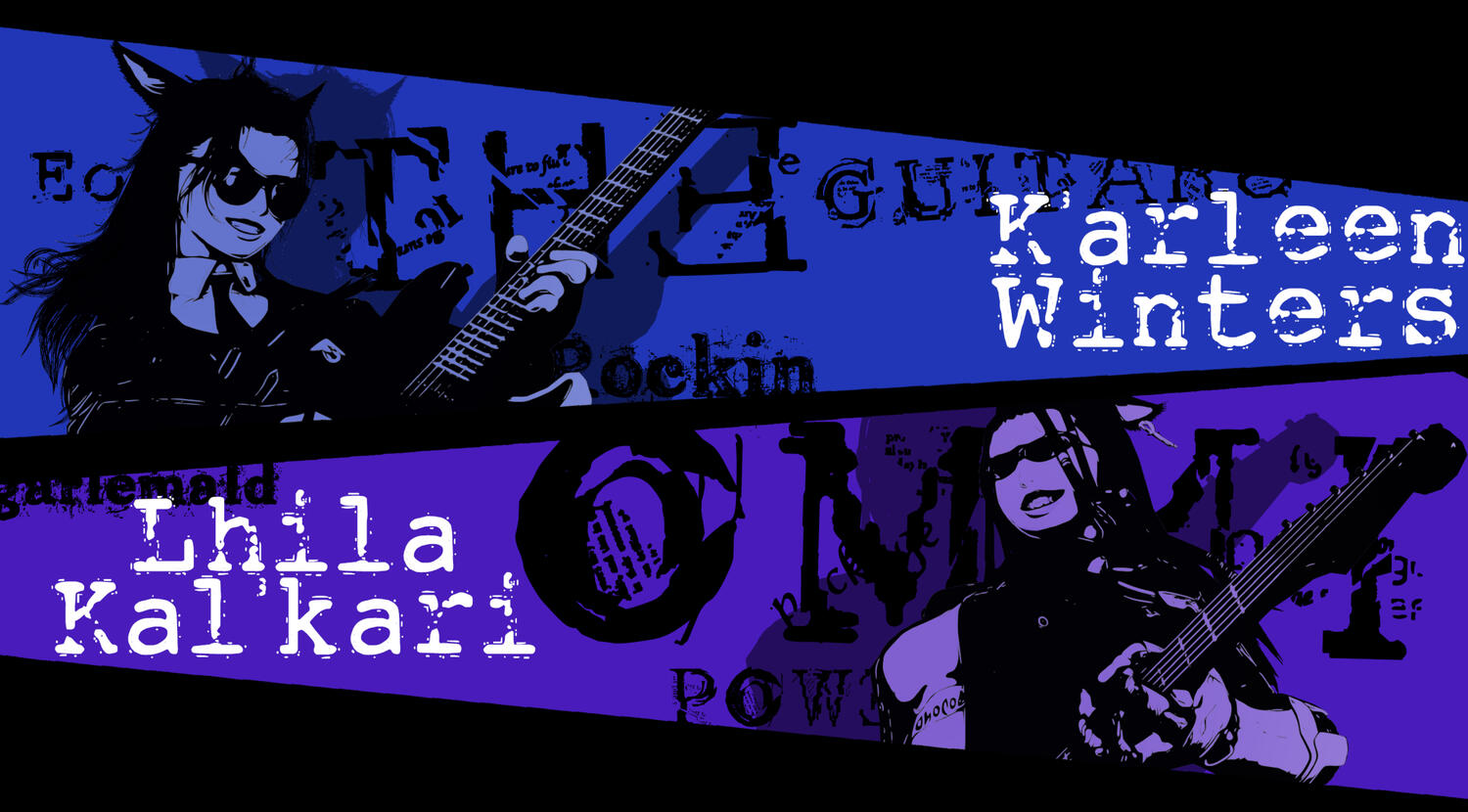 The Fens
This Viera trio originally hails from the Tramdine Fens in Golmore, and claims to be witches, though they now practice their enchanting musical trio at the Elysian Springs Spa & Resort as well as their lesser-known haunt, The Covenstead.Their musical preferences tend to be playful, haunting, and definitely bewitching! Ready to be charmed?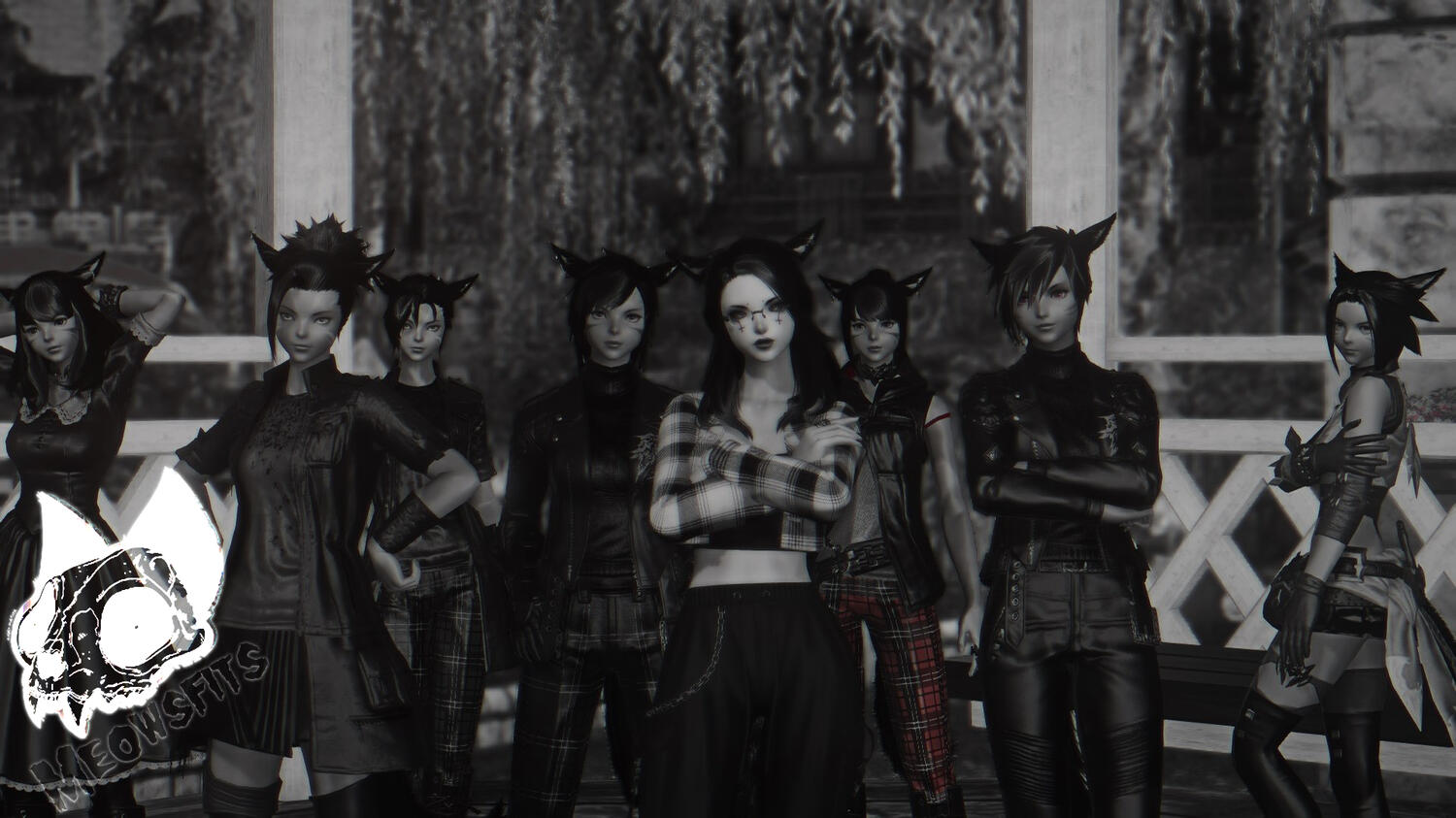 Hero Boy
Generally serves no purpose after being removed from the band by Frog Bard to be replaced by Nu. Currently stalks the band as a... fan...?
Ini'kyr and Oni X
With red-hot tempers and an outright absence of humility or shame, this gaggle of delinquent teenagers torment the ears of Eorzea with the loudest and insanely angst driven music to exist under the name: Oni X.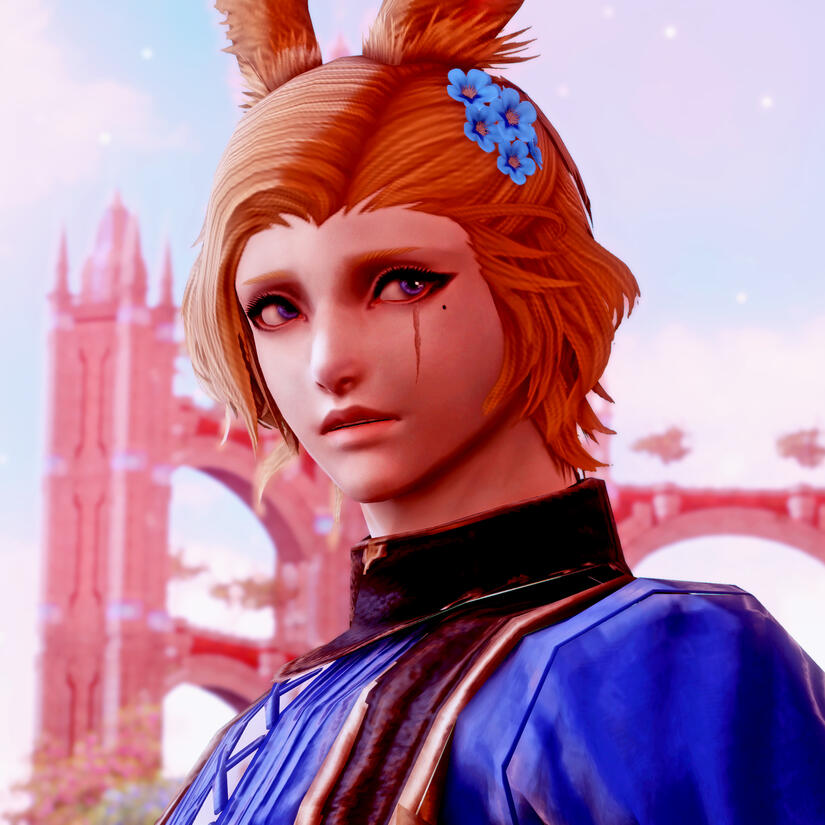 The Laweners
Heya! We're the Laweners, an Octet band of musicians!
We play various songs throughout the three major cities of Eorzea, including song requests!
Any songs we don't have, we find or attempt to transcribe on the spot!
You can usually find us in the cities of Goblin in the evenings, but we often do other impromptu performances.
Loot & Doot
C'rik is a rambunctious troublemaker and Muto is a musclebound himbo. Together, they're the official bards of the Cat's Meow casino and you can find them every Saturday night there!
Porfyra & Neon Insomnia
Hiya! I'm Porfyra and I run the octet troupe Neon Insomnia. We specialize in lighting guitars on fire, causing mosh pits, and generally rocking out. From regular venue gigs, to Free Company parties, and even bondings, we are available to hire for your event. I am also a Twitch streamer that produces content to include streaming my shows, tutorials on how to edit midis, and casual hangouts.
Ren & R'yohta Murasakino
These two purple flower power children can usually be found playing at Fire 'n Ice, Crystal Academy for Musical Arts, and the Wandering Faerie. They play anime, 2000s music, video game tunes, and rock/metal.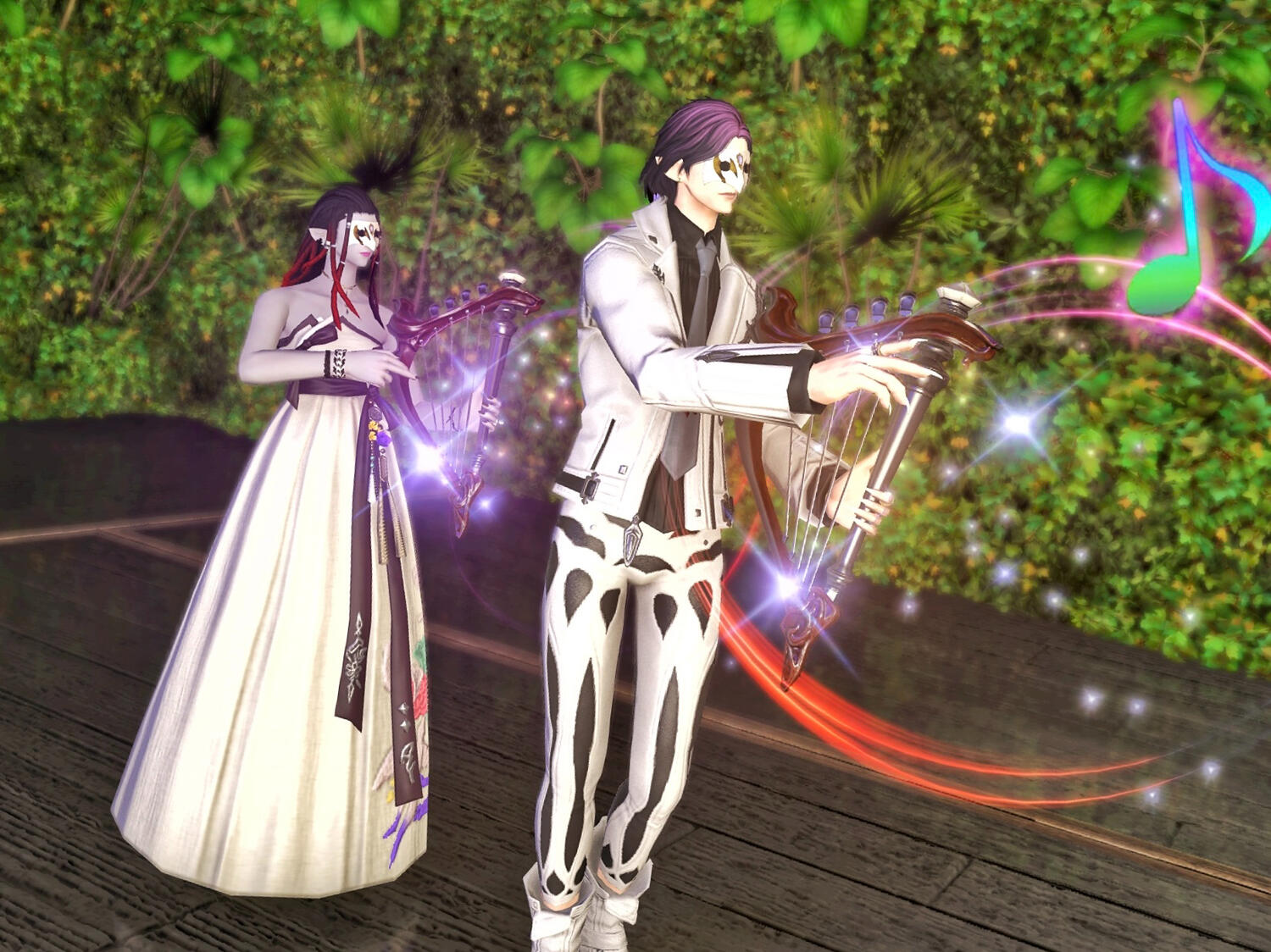 Sari & Jimmy
If asked, Sari & Jimmy will humbly say they are "A nothing-special house duo that decided to pick up instruments on a whim and found a liking to them. Will be focusing mostly on somewhat niche video game and anime-culture music!"This is their first time performing at Mogstock and you can be sure to delight in an assortment of some great popular tunes from a host of different anime series.
Headliners
FRIDAY
---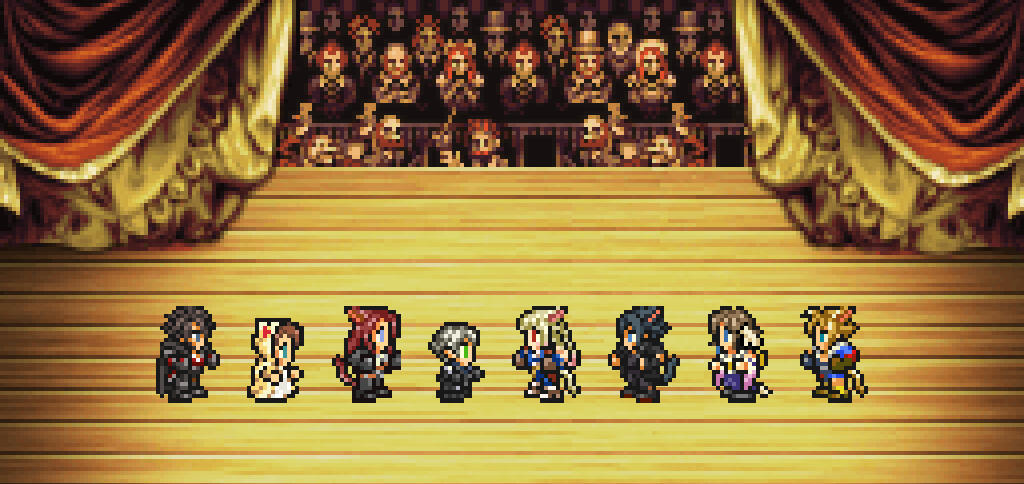 Amazing Grace
Amazing Grace is led by Emelly Meaux, a woman that has been through a lot, but regardless of the bad, she has always pushed forward, and through grace, did she never give up.This amazing octet ensemble were part of last year's Mogstock!
SATURDAY
---
Broken [W]ings
The Broken [W]ings are returning from Mogstock 2021 to play at this years festival! They are a NIeR themed band, playing all sorts of nostalgic tunes with their custom written arrangements! You'll become as Gods just listening to them!(legal disclaimer: You won't actually become gods.)
SUNDAY
---
Streamers
Can't make it to the show? No worries! We've got you covered!
Map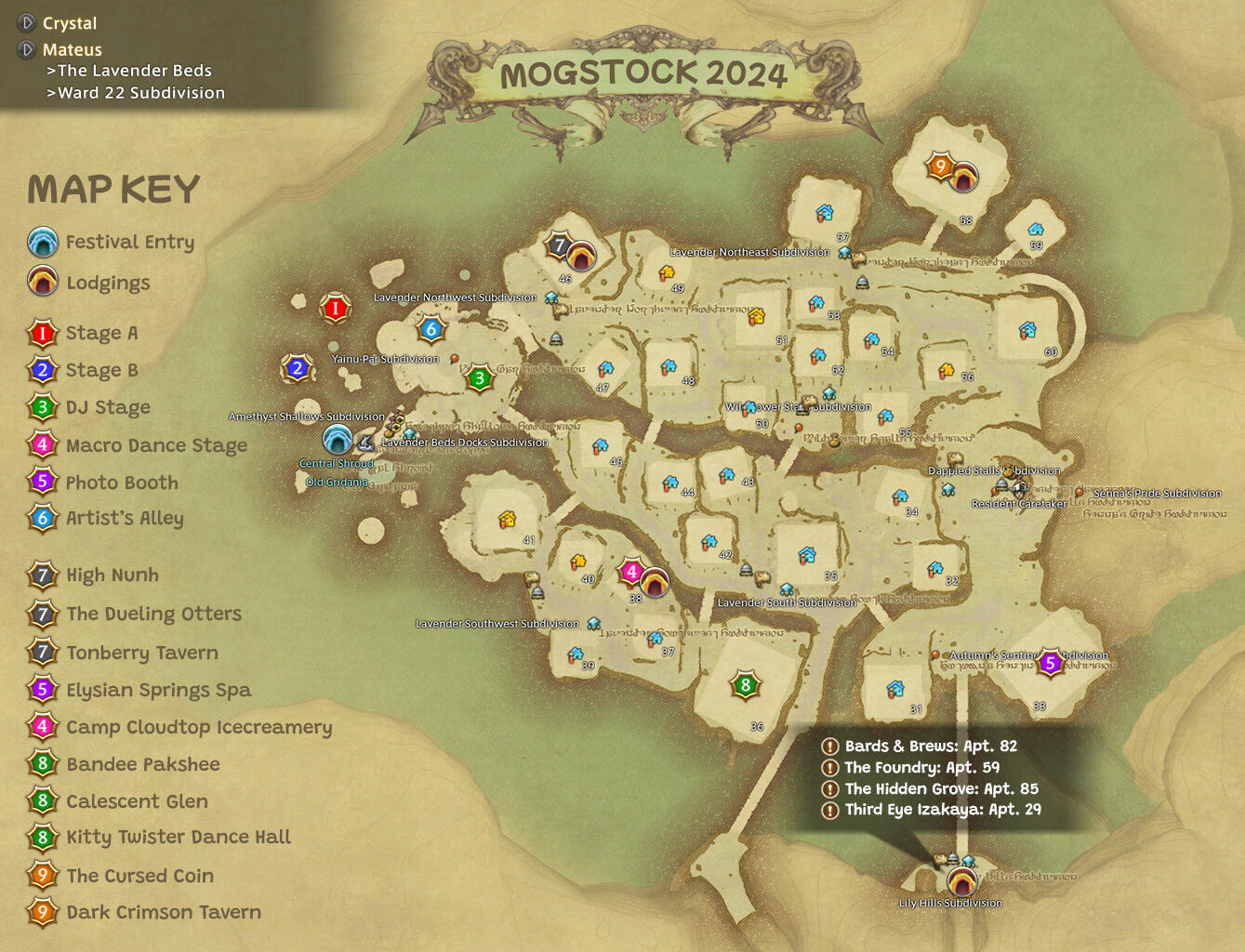 Ward 22 Lodging
The Elysian Springs Spa & Bathhouse VIP Suites
Ward 22 - Plot 33 - Lavender Beds
The Springs has rentable VIP suites for the evenings of Mogstock - check our their lovely accommodations and just get into contact with them in order to reserve your suite early!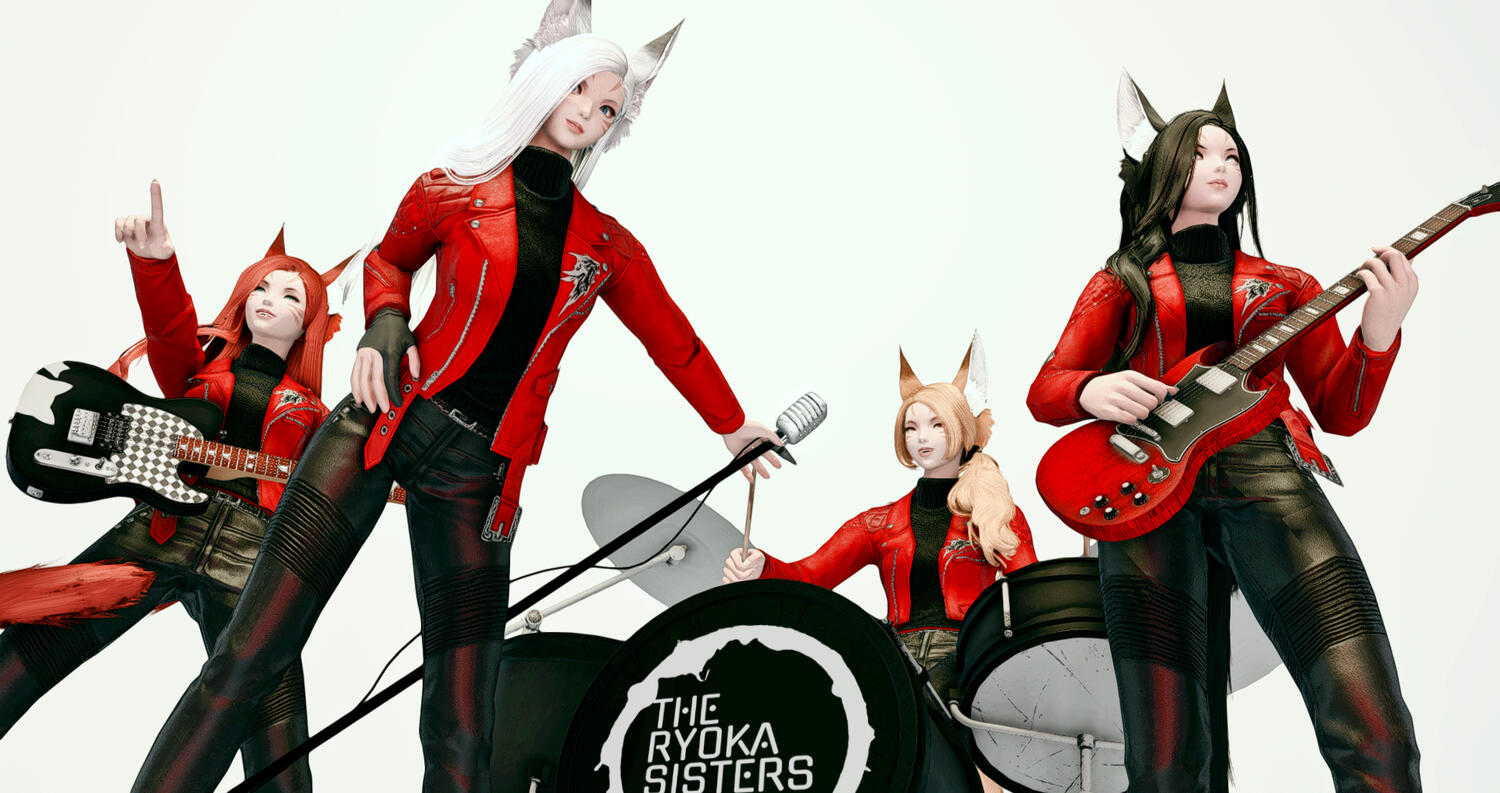 Rooms 4 & 6
Tonberry Tavern - Plot 46
"When open, the Tavern is home to weary travelers looking to rest and recover from a day's work. With a team of Tonberry's serving every table, they're a key part of our appeal to our patrons!Our daily staffing needs are usually met with cooks, managers, and hosts on the floor, while the food is ran and served by none other than the Tonberries. We tend to try and interact directly with the guests and meet their needs, using the medium for that extra layer of quirk, cuteness, and fun.Additionally, in true tavern form, we have lodging for rent in rooms 4&6 among the more romantic setting we house in the top floor, a hot tub to relax, view the stars, and spend some time with a special someone or group of friends."
Artists & Photographers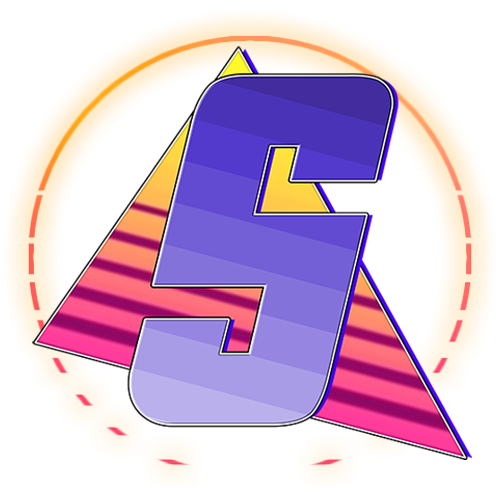 Slagator Photography
Slagator will be doing a 'Photobooth' to commemorate Mogstock. You can find him at Plot 33 in Ward 22 Subdivision to get your own commemorative photo taken of yourself and your friends at Mogstock!
Organizers
Clayde Lockheart
Clayde is one of the main masterminds behind the Mogstock festival and has worked tirelessly since 2021 Mogstock to make sure that the 2022 Mogstock would be just as fabulous as the last.Having come up with the concept in tandem with Viy Vatsionne of CAMA, the two then reached out to Demytrya Eno'traeh, Tromad Lunakith & others to come up with a festival concept that would knock the socks off Eorzea with music, roleplay and community fun! DISCORD: Clayde#7667
Demytrya Eno'traeh / Braely Fiala
Demytrya Eno'traeh (also Braely Fiala) is one of the behind the scenes guru's as well as one of the lead outreach organizers helping bring the different elements of Mogstock into cohesive harmony. Alongside Clayde, Demy has worked tirelessly to get different elements of the special community that defines Crystal Data Center together to help make the Mogstock festival amazing.Demy is the co-owner of the Elysian Springs Spa & co-lead of the Eternal Star Company. She and her design team, Lledwyn and A'starotte are responsible for most of the venue designs seen during the Mogstock festival. DISCORD: Demytrya#0251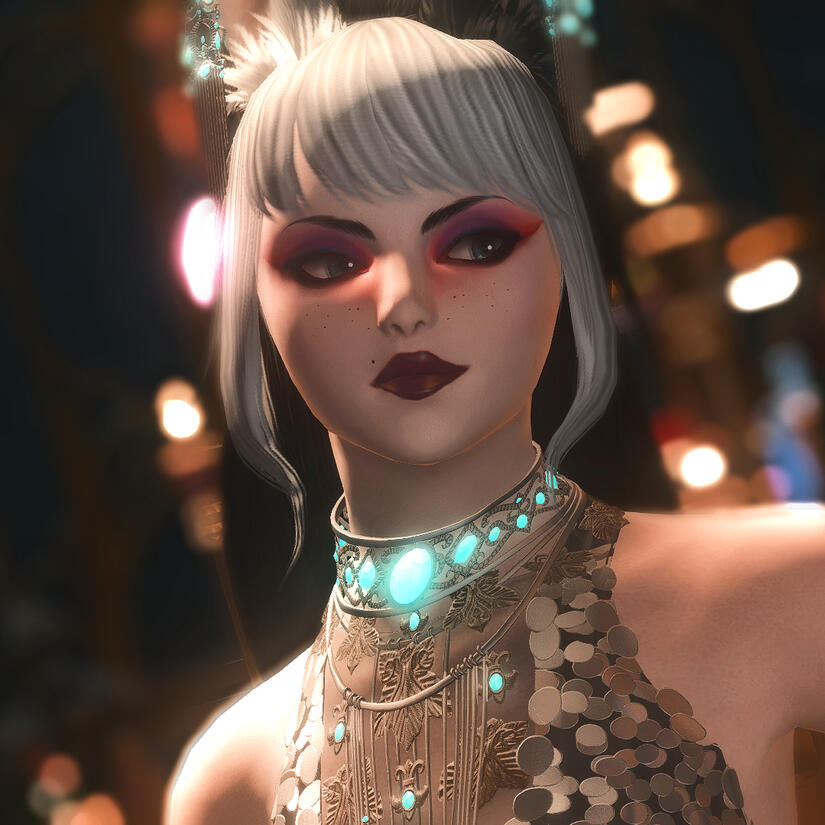 Fordaux Llane
I'm Fordaux Llane, I'll be working with my co-organizer, Seresa Kuneho on behalf of the Prancing Moogle Cafe! We're one of the early venues, with our roots going all the way back to Stormblood! Our venue recently has taken on a new meaning which is to "Be a home for creatives". Mogstock is one of such events that inspired this attitude.We've supported Mogstock since the first, going as far as hosting the Mogstock Parade alongside all the fine bards of Mogstock proper. Check us out if you're a bard, artist, writer, gposer, anything that you do creatively. Come say hi to our merry crew at Mogstock 2022!
Lledwyn Eno'traeh
Lled is the magic behind the Mogstock Carrd and last year's wonderful Mogstock video which garnered accolades galore. His work has been focused on making sure Mogstock information is easy to access and fun to read for all of our festival guests!Lled is the co-owner of Elysian Springs Spa & also co-designer of the many spectacular venues experienced in Ward 22 as well as being the co-lead of the Eternal Star Company. DISCORD: Lledwyn#0042
Tromad Lunakith
Hi there! I'm Tromad Lunakith, one of the organizers of Mogstock! I've been on Crystal for several years now, starting my experience in the DC's entertainment sector as a dancer, tarot reader, and bard. From there, I went on to learn macro performances and opened the Blue Miqo'te!I've helped setup events such as Mogstock, Eorzea Dream Fest, Bard College, Crystal Academy of Musical Arts, and many more organizations dedicated to RP and the promotion of player created arts. I'm also a DJ, DJ Luna K! I'll see you all at Mogstock 2022! DISCORD: Tromad Lunakith#4956
Viyene Vaitisionne
Viyene is one of the two visionaries behind the Mogstock festival and has marshalled the amazing bard community under the banner of CAMA (Crystal Academy for Musical Arts) to make sure Mogstock is filled with AMAZING performers.Having come up with the concept in tandem with Clayde Lockheart, the two then reached out to Demytrya Eno'traeh, Tromad Lunakith & others to come up with a festival concept that would knock the socks off Eorzea with music, roleplay and community fun! DISCORD: Viyene Vaitisionne#2665